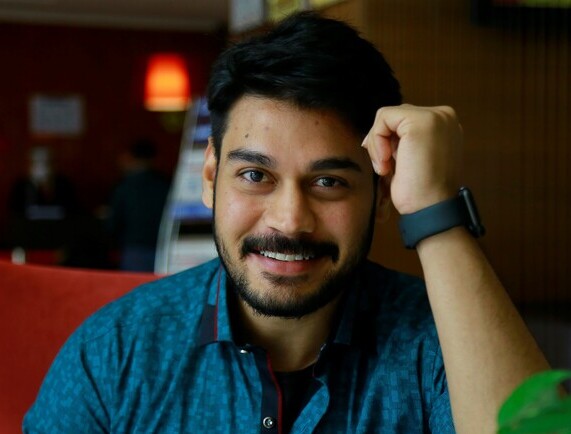 Father Chitti Umaa Kaarthik popularly known by acronym FCUK which has created high expectations with its teaser is set to hit the theaters on February 12th. The movie directed by Vidyasagar Raju presents Raam Kaarthik and Jagapathi Babu in a unique son and father relationship. This was revealed in the media interaction of Ram Kaarthik today details of which are below.
…
How did you get the opportunity in this film?
Our film is happy to be trending on social media, on the digital platform. I saw director Vidyasagar Rajugari's previous film 'Racheyta'. That impressed me a lot. Karthik's character was given to me after a lot of study of actors profiles by the production house. Sagar is a very talented director. As an actor, he brought an angle unknown to even me with this film. I am happy with the immense appreciation being showered on me for my performance in the film.
How is your character?
I did the role of Karthik in the title. Its a boy next door kind of character. The prankster character that Jagapathibabu enacted is as my father. Our characters not 'Like Father – Like Son' but very opposite.
How did it feel to work with a well-known actor like Jagapathi babu Garu?
Jagapathi Babu is a legendary actor. I feel lucky to share the screen with him. One of the many scenes that happens between the two of us is an emotional scene that I really like. That was a challenging scene. I have to show anger at him in that scene. Although I seemed nervous at first, I did it with the support he gave me. That scene came out very well. The relationship between father and son in this film is not only fun but also emotional. It will reach the audience well.
What exactly is this movie about?
It is about how a love story of Kaarthik and Umaa is interrupted by entry of Chitti and how it is resolved. Director Vidyasagar has presented this narrative with lot of fun and humour.
Isn't it hard to work with a small baby?
None. We did not have any problems working with her. In Fact she was the one who made it very stress free. The character of Chitti was very well done by Baby Sahasritha. She is a Born Artist. She gave whatever expression we needed.
What about the heroine Ammu Abirami?
Have a good working experience with Ammu Abhirami. She has no ordinary memory. She is a very Talented Artist‌.
What song do you personally like in the movie?
I really like "Poovalle" written and sung by music director Bhims among the songs. It is very emotional. Bhims wrote the song with his daughter in mind. We are delighted that the album as a whole has been rated as very good.
What about working on a prestigious banner like Sri Ranjith Movies?
Really very happy to have the opportunity to star in a prestigious banner like Sri Ranjith Movies. Producer Damu is very particular about the script. The same is true of casting. The movie is coming from a banner which gives a foregone conclusion from the beginning that it is a hit. He pays so much attention to the product. There are four pillars in this movie. Damugaru, Sagar garu, Jagapati babu Garu, Line Producer Vasu Parim Garui. They are the main reason why this film came out so well.
L.VENUGOPAL
journalist, P.R.O
+91 9949912346