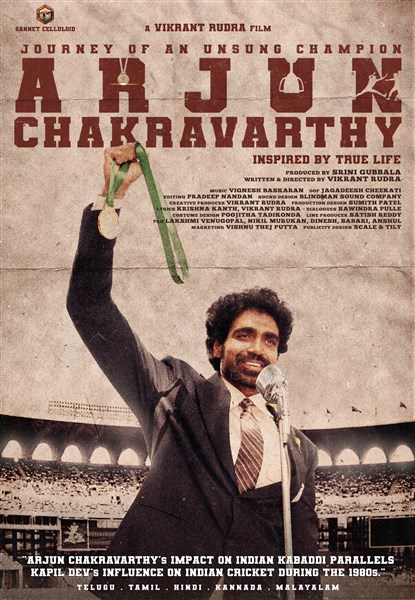 The upcoming film "Arjun Chakravarthy, Journey of an Unsung Champion" is making headlines right now. The film is produced by Srini Gubbala, written and directed by Vikrant Rudra. Actor Vijaya Rama Raju and Sija Rose play lead roles in the film. Ajay, Dayanand Reddy, Ajay Ghosh and Durgesh play the supporting cast.
The movie "Arjun Chakravarthy" is based on the true life story of a Kabaddi player who represented India in the 1980s; it presents rustic and raw imagery while capturing the struggles and triumphs in the life of a sportsperson. Today makers unveiled the first look of Vijaya Rama Raju.
In the first look we can see Arjun Chakravarthy in the middle of stadium with a medal in his hand and proud expression in his face. The text "Arjun Chakravarthy's impact on Indian Kabaddi parallels Kapil Dev's Influence on Indian cricket during the 1980's" raises the expectations to next level. It also raises intrigue about the Arjun's inspiring story that will unfold very soon on big screens. Vijaya Rama Raju has undergone a huge physical transformation for this role.
The movie has top notch technical team. Vignesh Baskaran is composing the music while Jagadeesh Cheekati is handling the cinematography. Sumith Patel is handling the Art Direction, Pradeep Nandan is in charge of editing. "Arjun Chakravarthy" is being shot in Telugu and Tamil simultaneously and is being dubbed in Hindi, Malayalam, Kannada and is slated for a Pan-India release
Producer Srini Gubbala said, "We believe 'Arjun Chakravarthy: Journey of an Unsung Champion' is not just a movie but a tribute to the indomitable spirit of individuals who rise above challenges and inspire us all. Arjun Chakravarthy's story is one of resilience, determination, and the unyielding pursuit of one's dreams. Through this film, we aspire to showcase the power of human will and the triumph of the human spirit.
As a team, we are immensely proud of what we've accomplished so far, and we're indebted to the unwavering support we've received from the cast, crew, and all involved in bringing this story to life. Every aspect of this film, from the cinematography to the musical score, has been carefully curated to ensure an immersive and emotional experience for the audience.
We invite everyone to join us on this captivating journey, as we shed light on the remarkable life of Arjun Chakravarthy. This is a story that deserves to be told, and we can't wait to share more about this extraordinary cinematic endeavor with all of you."
Director Vikrant Rudra said, "As the director of 'Arjun Chakravarthy: Journey of an Unsung Champion,' it has been an honor to helm this inspiring project. The journey of bringing Arjun C'hakravarthy's story to life has been nothing short of incredible.
Arjun Chakravarthy's life is a testament to the adage that success is born from dedication, perseverance, and an unwavering belief in oneself. It's been a privilege to work with a talented cast and crew who share the same passion for storytelling and dedication to honoring Arjun Chakravarthy's legacy.
Through this film, we've strived to capture the raw emotions, the triumphs, and the challenges that Arjun Chakravarthy faced on his journey. The first look provides a glimpse into what the audience can expect – a compelling narrative, heartfelt performances, and a celebration of an extraordinary individual who defied the odds.
Vijay RamaRaju's portrayal of Arjun Chakravarthy has been truly exceptional. His dedication and commitment to embodying the essence of Arjun Chakravarthy have brought an authenticity to the character that is palpable on screen.He pushed himself to the limits, undergoing an eight extensive physical transformation to embody the character of Arjun Chakravarthy authentically. We believe the audience will be moved and inspired by his performance.
I'm immensely proud of the incredible effort put forth by every member of the team, from the production crew to the art department. Their passion and hard work have been instrumental in shaping this film into what it is today.
We invite you to immerse yourselves in this captivating journey as we unfold the chapters of Arjun Chakravarthy's life. This is a story of grit, determination, and the unwavering pursuit of one's dreams. Thank you for being a part of this cinematic voyage."
L.VENUGOPAL
journalist, P.R.O
+91 9949912346