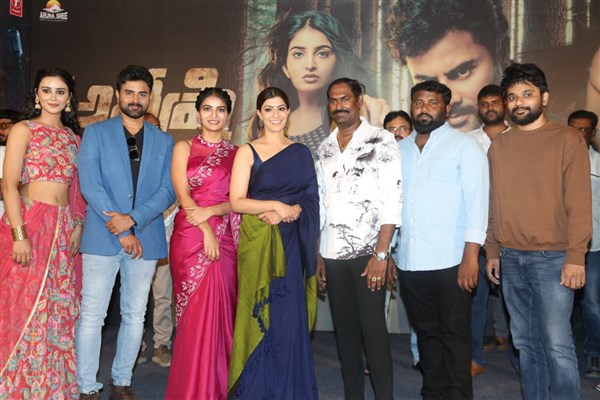 Vijay Dharan Datla, Simran Gupta and Ananya Nagalla are the heroines of the movie 'Anveshi'. T. Ganapathy Reddy is producing this film under the banner of Aruna Sree Entertainments. The movie is helmed by V.J Khanna. Preparations are being made to release this movie in the second week of November. On the occasion of producer Ganapathy Reddy's birthday, the makers released Anveshi movie trailer on Monday. Actress Varalaxmi Sarath Kumar was the chief guest for the program held on this occasion. In the event,
Actor Nagi said, "My father worked in film production. I grew up watching movies at Prasad Labs. Now here I am very happy to appear on the screen. Thanks to the director and producers for the opportunity. Producer Ganapathi Reddy has produced this movie uncompromisingly. I wish everyone to make the film a big success.
Lyricist Chaitanya Prasad said, "My association with Chaitan Bharadwaj continues since RX 100. Needless to say how big a hit Pilla Raa song was. I wrote good songs in this movie. It is a movie that the director has worked so hard with love. I have seen their passion up close. I want the film to be a big success,"
Co-producer Harish Raju said, "The entire unit has worked very hard to bring Anveshi to this stage. The trailer will be liked by all. I want the audience to love the movie.
Co-producer Sivan Kumar said, "I entered the film industry from an IT background. Ganapathi Reddy led us from behind. All the team worked very supportively.
Varalaxmi Sarathkumar said, "Anveshi trailer is good. The visuals are very good. All the best to Vijay. Also congratulations to Ananya and Simran. Music and background score is good. All the best to the team."
Basi Reddy said "All the best to the entire Anveshi team. Music and visuals are amazing. The trailer is connecting. There is no doubt that the trailer will surely bring the audience to the theatres. I want the film to be a big success and I want to make a film for every birthday of Ganapathy Reddy," he said.
UFO Laxman said, "Today is not only Ganapati Reddy's birthday. It is also my birthday. Ganapathy Reddy is preparing the film by taking it as a challenge. Our producer is going ahead with a planning. Suspense thriller movies should have good sound and visuals. Both of them are good in this movie. Actor Vijay acted very maturely. The heroines Ananya and Simran acted well. "Congratulations to the Anveshi team."
Executive producer Durgesh said, "Anveshi movie started many months ago. A lot of troubles came. But we have come to this stage beyond all that. We have reached this stage with the support given by Ganapathy Reddy. Thank you for this opportunity and support.
Simran Gupta said, "Watching the trailer of Anveshi brought tears to my eyes. Because the dream of becoming a heroine since childhood is coming true today. Thanks to our producer Ganapathy Reddy who made these dreams come true, to the producers who supported him and to our director Khanna garu who made the movie superb. I am very confident that the film will be a huge success."
Music director Chaitan Bharadwaj said, "Anveshi movie has made very well. There is no doubt that the audience will enjoy a good thriller after a long time. The songs are very good and they will touch the heart. The two songs that have already been released have received very good response. The background score was composed by Simon. There is emotional content along with good thrilling elements. Thanks to the director and producers who believed in him."
Film producer T. Ganapathi Reddy said, "This is our first film as a producer. I started the banner in my wife's name. Anveshi is sure to be loved by everyone. The trailer will be liked by all. Our hero Vijay is a good performer and dancer. Thanks to heroine Simran and Ananya. This is not a small film.. No compromise was made for making it and we've spent well. I came here to produce many films. Our director VJ Khanna has shot the movie well. The film is ready for the censor. We have planned to release the film in the second week of November. Everyone supported well. Chaitan Bharadwaj has given good music. I am going to start a film with Ashwin this month. I am going to do that movie with Padmanabha Reddy. We are also doing a film with Varalaxmi Sarath Kumar. We are trying our best to stand in the industry. I want the audience to appreciate our effort."
Film director VJ Khanna said, "Thanks to Varalaxmi garu who came as the chief guest for Anveshi trailer launch. Also thanks to Basireddy and Lakshman Garu. Ganapathi Reddy garu supported our team. He definitely came to stand tall jn the industry. I want him to give opportunities to many more people like me. Also thanks to our co-producers. Special thanks to our camera man KK Rao and art director Gandhi. We went into the deep forest and shot. Prem Rakshit has choreographed a song in it. Thanks to Vidyasagar along with them. Chaitan Bharadwaj gave beautiful music. Thanks to Hero Vijay, Heroine Simran and Ananya who played a special role. Anveshi movie will release in the second week of November. I want the audience to appreciate it.
Ananya Nagella said, "When the director V.J. Khanna narrated the story, I had a doubt that would he direct like that? But recently I felt very happy when I saw the trailer. It is understood that the director has designed each section well and has shot it very well. I think everyone will like the trailer. Our movie has good content. We are sure that the audience will appreciate it.
Hero Vijay Dharan Datla said, "Our Anveshi content released so far has received a very good response. Thanks to Basireddy, Varalaxmi garu and Lakshman garu. Anveshi movie is definitely liked by everyone. After watching this movie, I will shave my head if someone says, it's not good. We have faced many difficulties in this journey. At that time, T. Ganapathi Reddy stood like a god. Chaitan Bharadwaj gave a good output. The two songs released so far have received superb response. We believe that the response to the rest of the songs will also be in the same range. Our director V.J.Khanna started with the same excitement before, it is still the same till now. Simran Gupta is a very talented artist. Ananya garu acted in a special role. Thanking her is not enough. Thanks to everyone who supported.
Actors:
Vijay Dharan Datla, Simran Gupta, Ananya Nagalla, Ajay Ghosh, Nagi, Prabhu Dil Ramesh, Chandra Shekhar Reddy, Ratcha Ravi, Mimikri Subbarao, Emmanuel, Jabardast Satya and others.
Technical category:
Banner: Aruna Sree Entertainments
Producer: T. Ganapathi Reddy
Co-Producers: Harish Raju, Shivan Kumar Kandula, Golla Venkata Rambabu, John Boyalapalli
Executive Producer: Durgesh.A
Written and Directed by: VJ Khanna
Cinematography: KK Rao
Music: Chaitan Bharadwaj
Editor: Karthika Srinivas
Art: Gandhi Nadikudikar
Lyrics: Chaitanya Prasad, Chaitanya Varma, Subham Vishwanath
Stunts: Joshua
Choreography: Prem Rakshit, Vidyasagar Raju
P.R.O: Vamsi Kaka