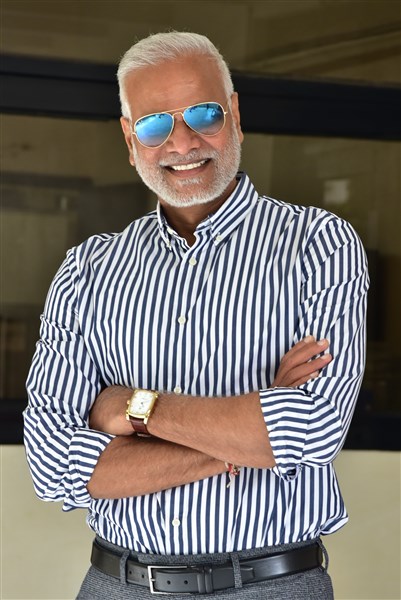 Upcoming film Annapurna Photo Studio has created a good hype with the teaser and songs The film is produced by Yash Rangineni under the banner of Big Ben Cinemas. Directed by Chendu Muddu. Starring Chaitanya Rao and Lavanya, the film also featured Mihira, Uttara, Vaiva Raghava, Lalit Aditya in key roles. Billed to be a heartfelt love drama, the film is releasing on July 21st. Makers are currently busy with promotional activities. On this occasion, the producer Yash Rangineni interacted with media about the film today.
– I was introduced to director chendu by Vardhan Devarakonda. Chendu said he has a good story and told me to listen to it. I loved the story. All this happened three years ago. I liked the village setting, turns and twists in the story narrated by Chendu. I like our old Telugu movies. When I go to London, I watch NTR's old movies. The period setting of the story narrated by Chendu, the backdrop of Konaseema village, entertainment and everything was impressive. I told him that we are doing this film. We have started shooting for the film in August 2022.
– When starting the film, I discussed how to make this story as interesting as possible. Among the movies that will be released in the next week, there should be something special and unique in our movie, and we discussed what to do for that. Chendu wrote the screenplay for the story interestingly. It has turns and thrilling elements rather than a quail story.
– This is a love story set in a village. Due to some reasons, the hero's marriage is delayed. Meanwhile an unexpected event happens. What happened to our protagonist love story took due to that incident will be interesting with thrilling elements. We made this movie with genuine heart. We took Cinematic liberties in limit but there are full commercial elements. They are the part of the story.
– There are eight main characters in the whole movie. All those characters act with some purpose in the story. Every character is connected to the end of the movie. I too played a role in the film as director asked me to do that character. Locations will be a major attraction in the film. You will see the natural beauty of the villages. Also the music is impressive.
– Lately we have done premiers in many places like Tirupati, Vijayawada. The youth came and watched the movie. It's 80's back drop so we wondered if the present youth would connect. But after watching the movie, they gave good feedback. They said it's stress buster after watching the film. Such a response made me happy. We traveled around 3 thousand kilometers for this movie.
– We should consider ourselves lucky to find a director like Chendu. Because he has clarity about how much budget to spend on the film and how to reduce wasteful expenditure. As much planning as we wanted to make Pelli Choopulu, we also produced this film in the same way.
– Chaitanya Rao is a good actor and he looks handsome. He performed well in this movie. He did his character perfectly in Godavari dialect. Lavanya also acted well. We gave this movie to ETV win app. They came to take our film because it was good. Today very few films are getting OTT rights. If the movie is good, someone will buy it.
– The words like small movie big movie are troubling. You know how big a success Pelli Choopulu was after releasing as small film. Budget wise and scale wise small or big is the same. We will re-release the films Dear Comrade and Pelli Choopulu, which we produced with Vijay Deverakonda. Dear Comrade was not a reach as we expected. But we got our investment back. I have two scripts. Vijay will definitely do it when possible.
– Anand is a good person. He has a lot of talent. I used to say that if you get one hit, that's enough. He received that hit with the movie Baby. A good concept was presented with the new people. The movie Baby showed The Power of great content.