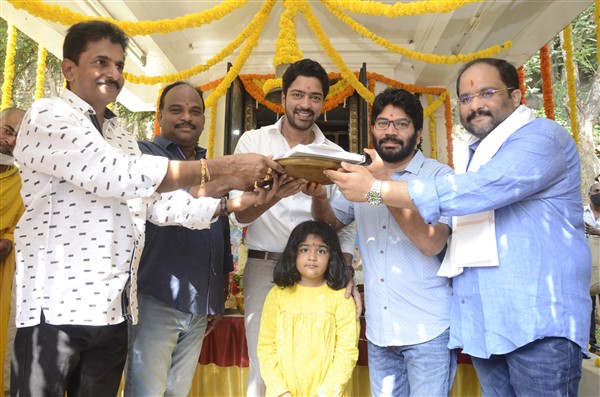 Allari Naresh, who has scored a super-duper hit with his acclaimed performance in 'Naandhi' earlier this year, has teamed up with East Coast Productions, whose 'Thimmarusu' has been a super-hit after the second wave of the pandemic. Titled 'Sabhaku Namaskaram', the film is directed by Sateesh Mallampati. Mahesh Koneru is producing the movie. On Thursday, the project was launched in a grand way. Ayana, the daughter of Allari Naresh, gave the clap for the 'muhurtham' shot. Pokoori Babau Rao switched on the camera, while 'Naandhi' director Vijay Kanakamedala directed the first shot. Abburi Ravi, Ammi Raju and Sudheer handed over the script to Sateesh Mallampati.
'Sabhaku Namaskaram' is Naresh's 58th movie. The first look of the movie was released on his birthday recently and it received an amazing response. A political thriller, the genre is a first for Naresh.
Chota K Naidu is the film's cinematographer. Music director Sricharan Pakala and editor Thammiraju are working on the movie. Abburi Ravi has penned the dialogue. The makers will announce the names of the rest of the cast and crew soon.
Cast:
Allari Naresh
Crew:
Director: Sateesh Mallampati,
Producer: Mahesh Koneru,
Banner: East Coast Productions
Cinematographer: Chota K Naidu
Music Director: Sricharan Pakala
Editor: Thammiraju
Dialogue Writer: Abburi Ravi,