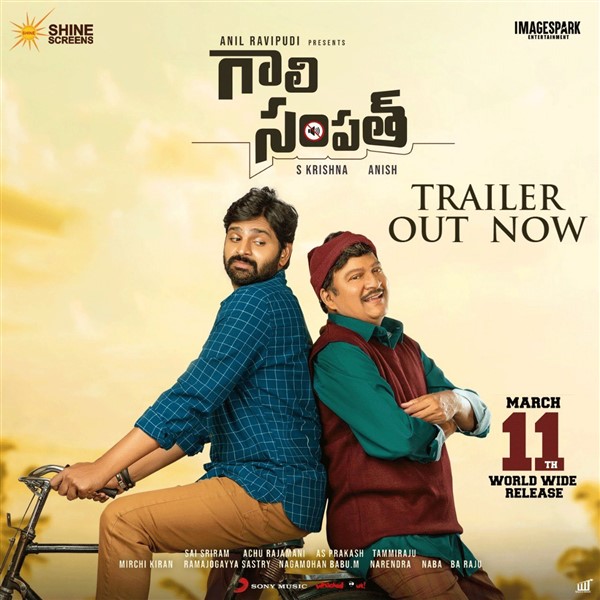 Blockbuster Director Anil Ravipudi's Presentation 'Gaali Sampath' starring Young Hero Sree Vishnu, Lovely Singh is gearing up for its release this Shivaratri on March 11 worldwide. Natakireeti Dr Rajendra Prasad is playing the titular role. Anil Ravipudi along with Presenting the film, he is also providing Screenplay and Direction Supervision. 'Gaali Sampath' is Produced by Anil's Co-Director, Writer, Friend S. Krishna under his newly launched ImageSpark Entertainment along with Saahu Garapati, Harish Peddi's Shine Screens banner. Anish is Directing this film. Ace Director SS Rajamouli unveiled the Trailer of 'Gaali Sampath' and wishes the team a big success.
Anil Ravipudi said, " This trailer gives you a small sneak peek in to what is in store in theaters on March 11th. 'Gaali Sampath' is a complete package of fun, emotions and great bonding. Thanks to Rajamouli garu for launching our trailer. Our team is super elated."
Sree Vishnu said, " 'Gaali Sampath' is honestly a special film for me. Thank you Rajamouli garu for launching our trailer."
The Trailer is packed with fun and emotional dialogues. Rajendraprasad pronouncing the dialogues with 'Fifi' sound will surely catches the attention. Dialogue like… ' Pillalu Thappu cheste thallitandrulu chaala opikagaa premaga correct chestaru… Adento kastha meesalu vachesariki peddollu em chesina oorike chiraakulu vachestaayi.. kopaalu vachestaayi. Nenu kuda maa nannani kastha opikaga, premaga adagalsindi sir..' dialogue shows the emotional side of father – son bonding in the film. Another dialogue ' Prathi ammayiki dabbunnodu kavali lekapote foreign vadu kavali. Dabbunnodu emi istadandi.. dabbe istadu time ekkadi nundi istadu..' by Sree Vishnu sounds interesting. Dialogues, ' Prapanchamlo ea tandrainaa tana Koduku tanakante nalugu metlu edagalani chustadu nuvventi naanna nannu tokki nuvvu edagalani chustunnavu..' followed by Tanikella Bharani's dialogue, 'Prakruthi ki em telusu evaru manchollo evaru cheddollo' are highly impressive in the trailer. Achu Rajamani's background score elevated the teaser and is getting very good response. On a whole the Trailer is giving an impression that Anil Ravipudi who has delivered 5 consecutive blockbusters is all set to score another Blockbuster with 'Gaali Sampath'. The film is releasing worldwide on March 11th.
Natakireeti RajendraPrasad, Sree Vishnu, Lovely Singh, Tanikella Bharani, Sathya, Raghu Babu, Sreekanth Aiyyangar, Mirchi Kiran, Surendra Reddy, Gagan, Memes Madhu, Aneesh Kuruvilla, Rajitha, Karate Kalyani, Sai Srinivas, Rupalakshmi, and others are the principal
Story: S. Krishna
Script Assistance: Adinarayana
Cinematography: Sai Sri Ram
Music: Achu Rajamani
Art: AS Prakash
Editor: Thammiraju
Executive Producer: Nagamohan Babu .M
Dialogues: Mirchi Kiran
Lyrics: Ramajogayya Sastry
Fights: Nabha
Choreography: Sekhar, Bhanu
Make-up: Ranjith
Costumes: Vasu
Chief Co-director: Sathyam Bellamkonda
Production: Shine Screens, ImageSpark Entertainment
Producer: S. Krishna
Screenplay, Presented & Direction Supervision by: Anil Ravipudi
Director: Anish